Our Wardrobes
Sunday 03rd, December
Need extra space for clothing, accessories, toys and more? Add a storage closet and get organized. All can be custom made in our workshop made of various types of wood. Find plenty of storage space behind the two large doors, including a garment rod and fixed shelf.
If you're looking for a wardrobe, look no further than Premier Kitchens. We have a broad wardrobe range to suit any home and any budget, from traditional to more contemporary wardrobe styles.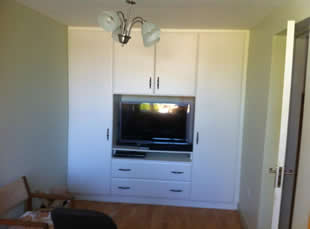 A wardrobe isn't just somewhere to hang your clothes, it's a vital accessory to your bedroom. At Premier Kitchens, you'll find a stylish wardrobe selection, from practical wardrobe designs for your guest room, to more traditional styles for your master bedroom. Whatever your tastes and needs, Premier Kitchens website has the perfect wardrobe for your home
If you are looking for a particular kitchen please contact John on 086 872 1467 or at our office on 01 839 5657.